Out of the Darkness Walk
November 6, 2021 @ 9:00 am

-

7:00 pm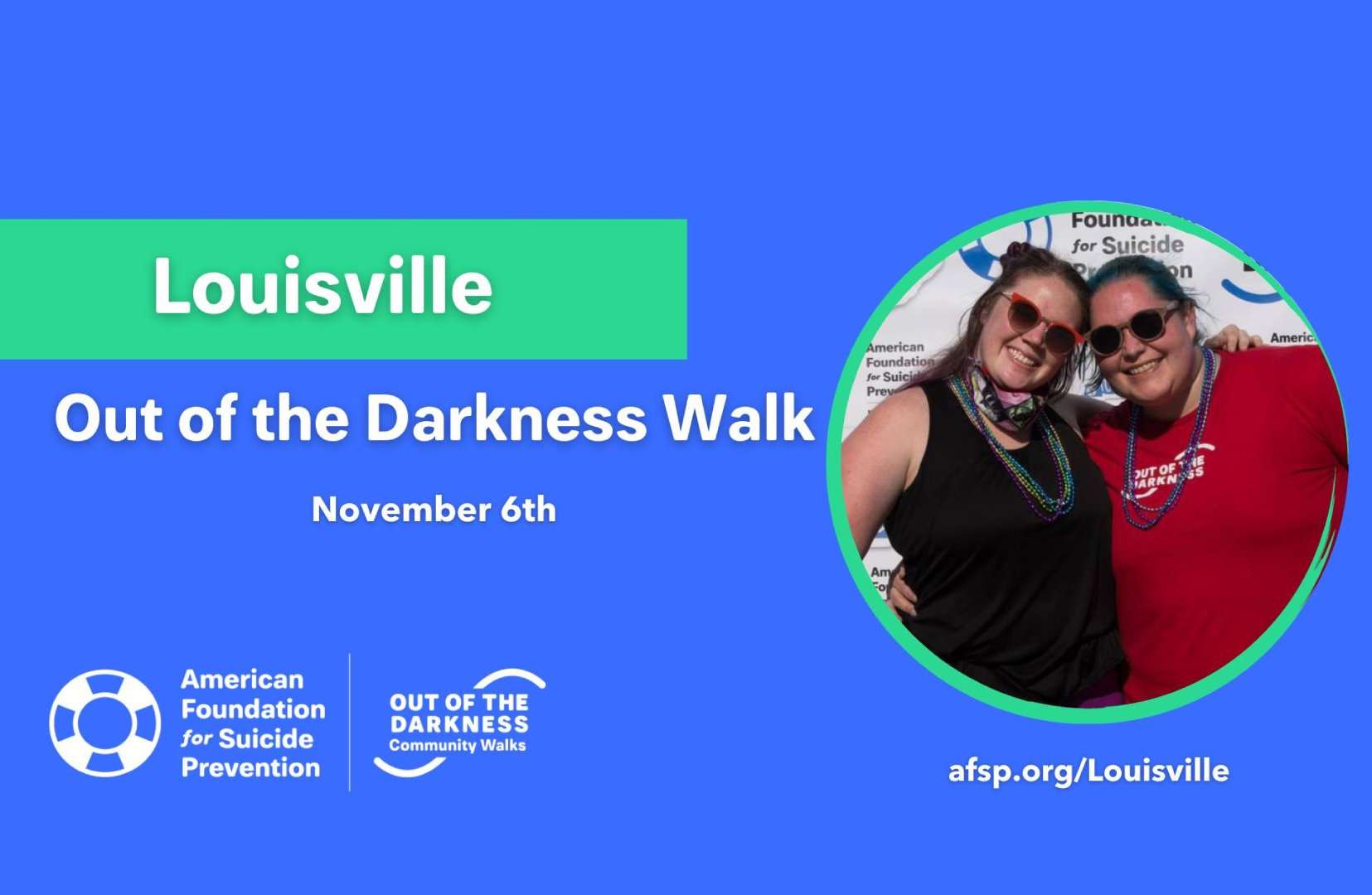 Event Details
Date: 11/06/2021
Location: Waterfront Park 
Registration: 9:00 am
Event Time: 9:00 am – 7:00 pm*
*Multiple Walk waves starting at 10:00 am, 12:00 pm, 2:00 pm, 4:00 pm, and 6:00 pm.
For more information, please contact:
Contact Name: Samantha MacKenzie & Alisha Ash
Contact Phone: 502-791-5643
Contact Email: LouisvilleOOTD@gmail.com
Join Us Today
The Louisville Walk is moving forward with planning for a full day event! Join us anytime between 9 AM and 7 PM to walk and engage with us. There will be multiple walk waves with opening ceremonies at 10 AM, 12 PM, 2 PM, 4 PM, and 6 PM. There will also be a variety of activities, trainings, and resources throughout the day, and we will update registered walkers with a schedule soon!
Register today to stay up to date on the latest news and announcements for the Louisville Walk.
Schedule of Activities
These will continue to be updated, so check back here for details! Add louisvilleootd@gmail.com to your address book to receive all email updates!
Hope & Healing Activities
Louisville Rocks hosting a rock painting stations (times TBD)
Honor Beads – 9 AM – 6 PM
Honor Bead Glow necklaces – available for final walk wave at 6 PM
Memorial Tiles – 9 AM – 6 PM
Photo Wall – 9 AM – 6 PM
HOPE Boards – 9 AM – 6 PM
Education Programs
Gizmo Read Along – 11am
Talk Saves Lives – 1pm
Introduction to Supporting Those at Risk – 3pm
Talk Saves Lives – 5pm
Food Trucks
Bamba Egg Roll – 11am – 2pm
Hotdog Truck – 2pm – 6pm
Blackbeard Coffee – 8:30am – 11am
Other Activities
Sara Williams Photography – Confirmed @ 12pm – 4pm
REFIT workout class – 1pm & 3pm
Resource Fair – 9 AM – 6 PM