Juneteenth: Past, Present, Future. Community Walk & (UN)Known Project Site Dedication
June 19, 2021 @ 10:00 am

-

5:00 pm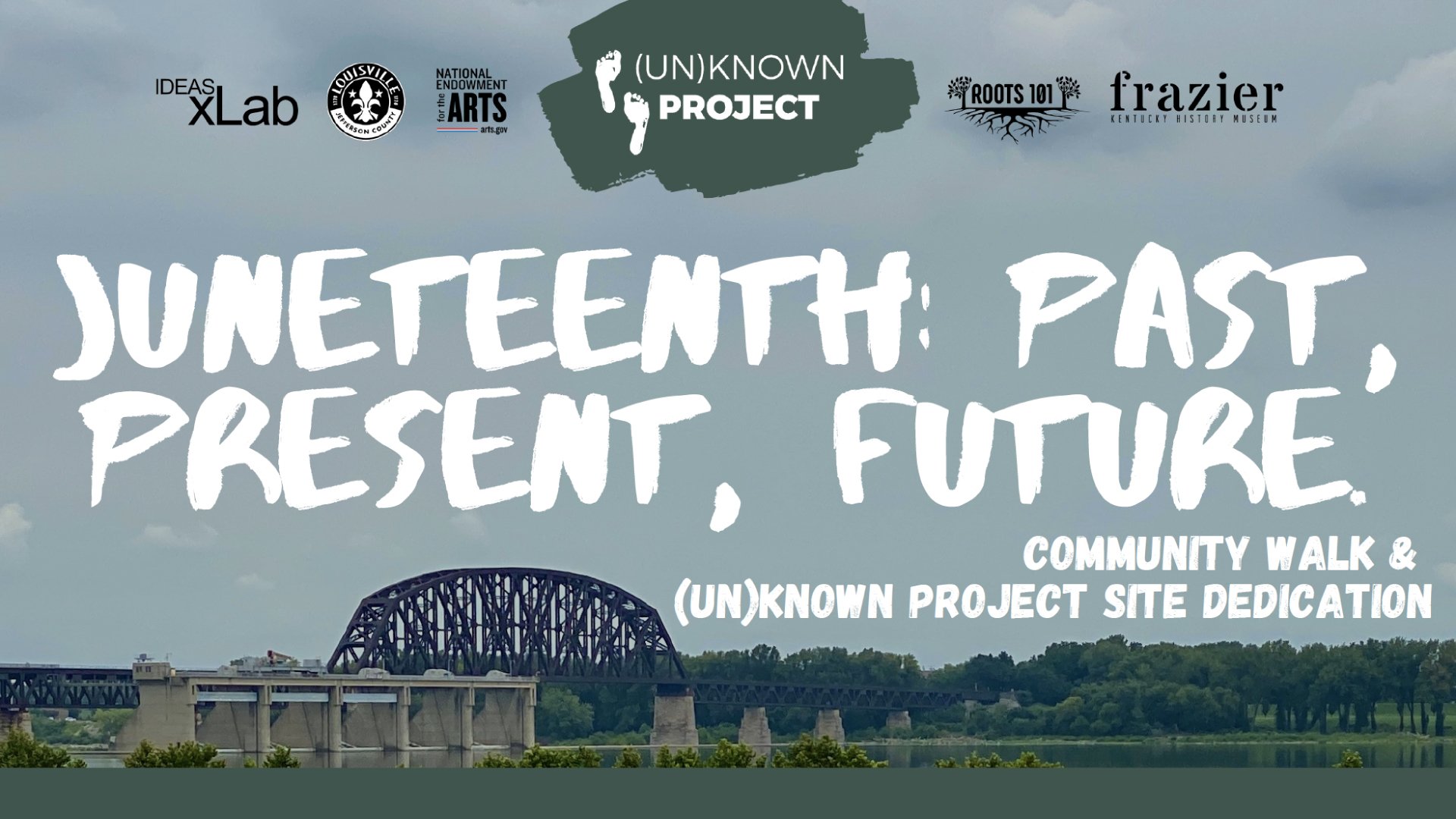 Date: Saturday, June 19
FREE
Event Schedule:
Doors open at 11:30am
Noon
Poetry & Performances at Roots 101 followed by A Journey In Our Footprints Walk:
Roots 101 African American Museum -124 N 1st St. A Journey in Our Footprints Walk to (Un)Known Project site will begin around 12:45pm [0.8 mile walk with stops along the way]
1:30
(Un)Known Project Site Dedication and Libation Ceremony:
Between 9th and 10th on the Louisville Waterfront. [Free Parking at end of 10th St adjacent to site]
This bench is composed of a limestone seat, a black granite back, and a chain with broken links. The back is sandblasted with a drawn head that becomes a stand-in portrait for the escaped enslaved person, as well as text describing the UnKnown project. Rugged edges reference the arduous nature of the escape. The seat is limestone, 18" high, with a rounded front edge for comfort and texture to complement the rough edges of the granite. The bench is 60" wide, 16" deep and approximately 36" high. The chain will be a large galvanized (standard finish) linked chain whose links are welded together and welded to the frame. The chain and all other steel structural elements will be powder-coated with a rust color for a long, low maintenance life.
10:30am-5pm
COVID-19 Vaccine Micro-Site – No appointment needed!
Location: Louisville Waterfront and 4th St. – Vaccines are FREE and NO health insurance is required.
For more information, visit: Unknownprojectky.com